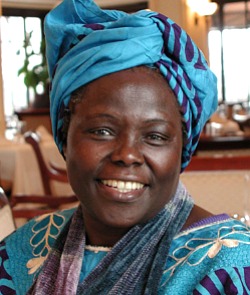 In Africa, she is sometimes referred to as the "tree lady" and she was born to save trees. In fact, all the trees in Africa know her by name and she saved more trees than anyone you can think of. She passed away on 25th September, 2011 after a prolonged battle with cancer but not even death could stop her from saving trees. Yes she continues to save trees.
In a land where girl-child education was considered unimportant at ll. In a land where the kitchen was considered the formal office of the girl-child and the broom, her official pen. In a land where female children were considered inferior to male children. In a land where the woman was sometimes considered just a child-bearing machine and an object of marriage. In a land where men were interested in only "uneducated" girls and girls with no formal education. In a land where almost everyone was against a girl-child going to school.
One girl-child stood against all odds. One African girl-child stood firmer than tradition and changed history for the better. One female stood up against all opposition and oppression and rose up above all including even the men in her community. One African girl-child rose to become the first female to earn a doctorate degree in all of East and Central Africa. Her name is Wangari Maathai, the beautiful daughter of mama Africa.
Dr. Wangari Maathai was the founder of the famous environmental protection campaign "the green belt movement". She was an environmentalist, a civil society and women's rights activist who fought several battles not with guns and bullets but with wisdom and common sense to help free several women in bondage and also to help save the environment.
In an age of global warming. In an age of rampant deforestation and environmental pollution. In an age where just a few people care about the environment, this famous daughter from Africa dedicated her entire life helping save the environment by encouraging the world over to help plant more trees which she did very successfully.
Born in a small town in the under-privileged Nyeri district of Kenya, Maathai had to think ahead from the very start. Maathai worked very hard in school and remained on top of her class. Because of her brilliance and dedication, Maathai received a scholarship to study at Mount St. Scholastica college in Kansas, United States where she took Biology as one of her major subjects. Maathai's brilliant academic record became the driving force in her quest to pursue higher education. She went on to pursue a Master's degree in biology at the University of Pittsburg.
Despite her great academic achievements in the United States, Dr. Wangari Maathai faced several challenges on her return home to Kenya. Why? well, the Kenyan society at that time wasn't ready to welcome a female scholar and Dr. Maathai had to once again beat all odds and change history for the better. Dr. Wangari Maathai worked even harder and became the first woman from East Africa to attain a Doctorate degree in Anatomy In 1971. Dr. Wangari Maathai faced even more challenges from the corrupt Kenyan government but all these could not stop Africa's tree lady from working even harder.
Dr. Wangari Maathai started the famous "Green Belt Movement" in 1977 with the aim of helping save the environment and also helping poor women in local communities make ends meet. Dr. Maathai's Green Belt Movement has grown to become one of the most successful environmental protection campaigns of all time.
Dr. Maathai's life was full of so many obstacles but she was able to overcome them all. Resilience was one force which helped Dr. Maathai to deal with failures in life. Finally, in 2004 Dr. Maathai was awarded the Nobel Peace Prize being the first African woman to receive a Nobel peace prize.
Dr. Wangari Maathai passed away on 25th, September, 2011 in Nairobi Kenya after a long battle with cancer. Although Dr. Maathai is gone, her memories still live on in the hearts and minds of all tree lovers, in the hearts and minds of all Africans and in the hearts and minds of several people around the world and her dream of a greener planet continues to grow stronger and stronger even in death.