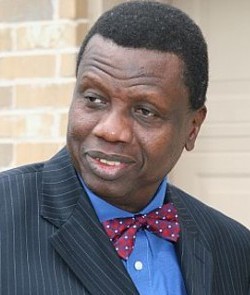 The faithfulness of the poor is being exploited not just in government but also in the house of the Most High God. Why? Because, in today's world, people try so hard to be "uncertain" about what they already know for sure. When they become completely uncertain about what they once knew for sure, they are given the title "Faithfuls" and are saved by faith. Some even refer to themselves as 'Born Agains', a very befitting title indeed.
Africa is a land of Faithfuls. Africa is a land full of 'Born Agains' who are more than ready to be saved by faith and nothing but faith. Africa is a land full of professional miracle performers and faithful miracle seekers. Almost everybody is seeking for miracles today in Africa making miracle performing such a booming business all across the continent.
The Holy Spirit is at work at every corner of the continent. The blind sees and the lame walks. Broken hearts are gently repaired with stiches. Even the dead walks again in Africa today. Business is all good for the miracle performers. Why? Because they don't even pay taxes. Meanwhile, miracle seekers continue to pay 10% of their monthly earnings in what is popularly known as "tithe" just so they can retain their beloved title of "Born Again". Almost every pastor and man of God in Africa today begins and ends his or her sermon with "sow a seed".
Church is all about business in Africa today. Pastors don't care much about who they kill and they don't care about who dies. Some even charge fees before prayers and in some cases, the fees are so high that only the rich can afford it and so the trend continues. Only the rich gets prayers while the poor continues to pay their "miserable" tithes. Some pastors also professionalize in the "holy water" business. They sell holy water to hungry miracle seekers at very high prices.
Somewhere in May this year, there was a very great stampede in Ghana when one very popular prophet and miracle performer by name T.B Joshua decided to sprinkle his "expensive" holy water on hungry miracle seekers free of charge. People were rushing and crushing their fellow worshippers just so they could get a share of T.B Joshua's free holy water which is believed to cure all diseases and most importantly, solve all financial problems. At least 4 people died and several others were wounded in that great stampede.
Just a few days ago in the news, blood flowed again in Nigeria but this time around, it wasn't the deadly terrorist group Boko Haram but handwork of our very own men of God. Two very rich and famous men of God Pastor Enoch Adeboye and Pastor Chris Oyakhilome. Pastor Enoch Adeboye of the Redeemed Christian Church of God (RCCG) and Pastor Chris Oyakhilome of Christ Embassy (both with millions of followers home and abroad) are currently locked in a very bloody dispute over a parcel of land located along the Lagos-Ibadan Expressway. Both leaders claim ownership and have gone to the extent of sponsoring some dangerous thug groups (dangerous armed groups) to go defend the land. Thug groups have clashed several times in the past over this very same parcel of land and the clashes get deadlier by the day. In their most recent clash, several thug members lost their lives in the brutal clash and who caused all these? Our very own men of God, Pastor Enoch Adeboye and Pastor Chris Oyakhilome.
Both Pastor Chris and Pastor Enoch are extremely rich. In fact, they are two of the richest pastors in Africa today and by "rich", I mean several millions of dollars rich. They live in exquisite humongous mansions and fly very expensive private jets.