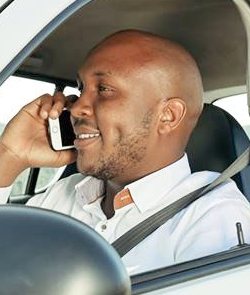 Just like in America and most other western countries, traditional taxi drivers are not happy about the tech-assisted ride-hailing and ride-sharing movement in Africa, as they fear losing their jobs and sources of income. It may surprise you to know that Africa hosts about sixty ride-sharing services across 21 countries. From South Africa's locally based Africa Ride, which offers a variety of payment options including weekly and monthly payment plans to the Kenyan-based Little Cab, an app-based ride-sharing service launched in 2016 by the mobile phone operator Safaricom, ride-hailing and ride-sharing services are taking over Africa by storm.
Somewhere in August, 2013, Uber marked its first entry into the African continent by launching in Johannesburg, Pretoria and Cape Town. Uber is currently operating in about 15 major African cities in 8 countries, with more than 65,000 drivers in countries such as Egypt and Morocco in North Africa, Ghana and Nigeria in West Africa, Kenya, Tanzania and Uganda in East Africa and of course, South Africa in the south. Although Uber's journey on the African continent has also been a bumpy one, marked by violent protests, price wars, regulatory challenges, and accusations of growing into a monopoly, Uber has managed to garner over 2 million riders in Sub-Saharan Africa alone and continues to grow in momentum.
Uber's entry into the African continent has had both positive and negative effects on transportation and local businesses across the continent. In terms of transportation, Uber has been of great help to tens of thousands across the continent who now have daily options to choose from. Until recently, public transportation in cities like Cairo in Egypt, Ghana's capital Accra, Freetown the capital of Sierra Leone , Lagos, Nigeria's economic powerhouse and the most populous city in Africa, Kinshasa in the Democratic Republic of Congo, Nairobi in Kenya, and many other African cities was very chaotic and accident prone. The mostly unreliable local taxicabs did not alleviate the situation. But Uber's entry into the continent could be changing the narrative. Uber is challenging the local transportation industry with professional, safer and more affordable options.
However, Uber has also been a destructive force to the local transportation businesses and startups across Africa. In fact, it is turning in a monopoly in some areas and small local transportation services feel being crushed by Uber's sheer size and resources. Small local services like the Kenya-based Little Cab, operates just like Uber. It is an app-based ride-sharing service with even more options. For example, unlike Uber, Little Cab accepts the local cashless mobile payment system Mpesa. The South Africa locally based Africa Ride also offers variety of payment options unlike Uber. For example, Africa Ride offers weekly and monthly payment plans and also accepts payment via mobile wallet apps. These and many other Africa-based ride hailing and ride sharing services were gaining momentum and flourishing until the arrival of Uber.
Other foreign Transportation Network Companies, including America's second most populous ride-sharing service LYFT, also have Africa on their agenda. Lyft currently operates in only the United States and Canada but plans to go global in the near future and Africa is a major target point.