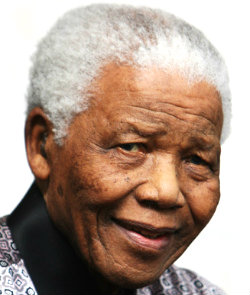 Nelson Rolihlahla Mandela popularly known as "Madiba" in South Africa, was born on July 18, 1918 in Mvezo a small village located at the south eastern part of South Africa in the Umtata district. Nelson Mandela will be 95 years old on July 18, 2013.
Nelson Mandela's middle name "ROLIHLAHLA" is a Xhosa name which literally means "pulling the branch of a tree" or "stirring up trouble" (or simply, a "troublemaker"). Not surprisingly, Nelson Mandela was considered a troublemaker by the then apartheid South African government which declared Mandela a wanted man and later on sentenced him to death for troublemaking.
Today however, the name Rolihlahla has a totally different meaning.
The name Rolihlahla today stands for a man of peace and justice. Rolihlahla today stands for a courageous freedom fighter who uses wisdom and not guns in winning freedom battles. Nelson Mandela despite being a hero remains very humble and continues fighting and winning freedom battles even at this his age.
To most Africans, Nelson Mandela remains perhaps the greatest leader alive in Africa today. After nearly 3 decades of pain and torture in different prisons across south Africa, Nelson Rolihlahla Mandela was finally released from jail as a "free man" on Sunday, 11 February 1990. Most leaders in the world today would love to seek vengeance and burn things down. Nelson Mandela had every opportunity to do just that. However, the great Madiba chose peace and saved a nation.
Imprisoned for 27 years for his opposition to apartheid, Nelson Rolihlahla Mandela came out of prison in 1990 expressing no bitterness at all towards his tormentors. Instead, Nelson Mandela preached and practiced peace and reconciliation. To some, Mandela had a near-omnipotent power at the negotiating table, carrying with him an indubitable moral authority and gentle but firm sense of fairness. On 10 May 1994, Nelson Mandela became the first black president of the new democratic South Africa. In 1993, he was awarded the Nobel Peace Prize, which he shared with former South African president FW de Klerk. This peace prize award is just one of his uncountable number achievement awards.
Nelson Mandela's inauguration as President of the "new" South Africa in 1994 brought together the greatest number of heads of states since the funeral of the late president John F. Kennedy of the United States in 1963. Unlike some very corrupt and heartless leaders across the continent, power did not corrupt Nelson Rolihlahla Mandela. Nelson Mandela served just one presidential term, governed in peace and handed over power peacefully to Thabo Mbeki in 1999.
Somewhere In June 2004, Nelson Mandela officially retired from public life. His parting gift, a R1-billion endowment to South Africa, to be raised by the Nelson Mandela Children's Fund and two other charitable organizations bearing his name (the Nelson Mandela Foundation and the Nelson Mandela Rhodes Foundation).
Although Nelson Mandela has officially retired from public life, Nelson Mandela remains more active publicly than ever. Nelson Mandela continues preaching his message of peace and reconciliation and remains very active in several awareness campaigns.
UPDATE: Nelson Mandela has joined his ancestors. Madiba passed away on December 5, 2013. May his gentle soul rest in perfect peace.