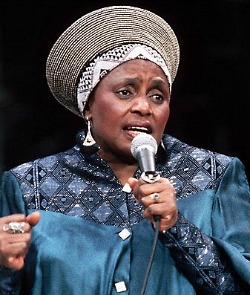 We used to call her "Mama Africa" because she was more than a mother and a friend. She united the entire continent of Africa through music and introduced African music to the rest of the world. She had the voice of an angel and sang the beautiful melodies of Africa with pride and dignity. She was never carried away by money and she was never carried away by fame.
We can write thousands of pages about Miriam Makeba's life because she had quite an extraordinary life.
Miriam Makeba was born to do what she loved doing and loved what she did. Although she was born into poverty, Miriam Makeba managed to accomplish almost all her dreams through hard work and dedication. She wasn't born with silver spoon in her mouth but passed away leaving treasure boxes of gold and silver in the hearts and souls of millions around the world. She was banned from the land of her birth but the whole world became her homeland.
"I always wanted to leave home. I never knew they were going to stop me from coming back. Maybe, if I knew, I never would have left. It is kind of painful to be away from everything that you've ever known. Nobody will know the pain of exile until you are in exile. No matter where you go, there are times when people show you kindness and love, and there are times when they make you know that you are with them but not of them. That's when it hurts".
Miriam Makeba spent her early days as an infant in jail for a crime she knew nothing about. Miriam had to spend the first 6 months of her life in jail. Why? Because, her beloved mother, Nomi Christina Jele (a herbalist /traditional healer), was arrested by the then Apartheid South African police for selling umqombothi (a homemade African beer brewed from malt and cornmeal) and was sentenced to jail just 2 weeks after poor Miriam was born. Miriam Makeba's father, Caswell Mpambane Makeba, a Xhosa working-class man, passed away when Miriam was just 6 years old. Christina continued to labor even harder so as to cater for young Miriam and her 5 siblings. We call her "Mama Africa" because, to many of us back home and abroad, Miriam Makeba was a great survivor.
Miriam Makeba was the first female to popularize African music around the globe. Miriam Makeba even performed at John F. Kennedy's (the 35th President of the United States 1961-1963) birthday party in 1962. Miriam Makeba performed with great well known artists such as Harry Belafonte, Paul Simon and Hugh Masekela. In fact, Hugh Masekela was Miriam Makeba's first husband. Miriam, later on in life, married Stokely Carmichael, a leading member of the American Black Panther movement.
Miriam Makeba wasn't just a great singer, she was also a freedom fighter and a major peace icon who spoke against injustice wherever and whenever possible. Because of her fighting spirit and outspokenness, the then Apartheid South African government cancelled Miriam Makeba's passport to prevent her from returning to South Africa her homeland (from her overseas travels) in 1960. Miriam Makeba was able to return home after the release of Nelson Mandela in 1990.
The life of Miriam Makeba was full of so many obstacles but Miriam did not give up. She moved on from greatness to greatness until she passed away in 2008 at the age of 76. May her beautiful soul rest in peace.