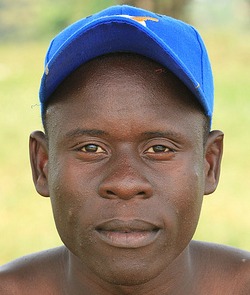 The Republic of Uganda (or "Uganda" for short) is a landlocked East African country bordering the Republic of South Sudan to the north, the Republic of Kenya to the east, the Republic of Tanzania to the south, the Republic of Rwanda to the south-west and the Democratic Republic of the Congo to the west.
Although landlocked, the Republic of Uganda is a well-watered country with several rivers and lakes. This includes a huge section of Lake Victoria which is Africa's largest natural lake by surface area and the world's largest tropical lake. Lake Victoria is also the world's second largest fresh water lake by surface area (second only to Lake Superior in North America). In fact, Lake Victoria covers almost the entire south-eastern corner of Uganda. Uganda shares Lake Victoria with Kenya and Tanzania.
The Republic of Uganda has a total land area of about 241,038 squared kilometers (about 43,938 sq km of which is covered by water). Just about 34.3% of this total land area remains arable (land good for farming).
The Republic of Uganda has an estimated population of 50 million people with the population growth rate hovering around 3.31%. Almost half (about 46.5%) of Uganda's population is under the age of 15. The Ages 15 to 64 group makes up about 51.54% of the total population while seniors (ages 65+) form the remaining fraction (about 1.96%) of the population.
About 25.6% of Uganda's population lives in urban areas in major cities and towns such as Kampala the capital. Kampala's metropolitan area is home to about 3.5 million people. Other popular cities and towns such as Nansana, Kira, Ssabagabo, Mbarara, Mukono, Njeru, Gulu, Lugazi, Masaka, Kasese, Hoima, Lira, Mityana, Mubende, Entebbe, Jinja, Masindi and Kitgum also contain significant portions of the population.
The remaining fraction of Uganda's population lives in rural and sub-urban communities mostly as poor subsistence farmers who grow crops such as cassava (also known as yuca or manioc), plantain, maize, sugar cane, sweet potatoes, beans, bananas, sorghum, etc. and also rear animals like cattle, goats, sheep, poultry, etc. just to feed themselves and their families. In fact, according to World Bank statistics, Uganda had about 16 million people in the labor force in 2015. About 71% of this number (about 11.4 million people) was into agriculture (mostly subsistent).
The Republic of Uganda is a culturally rich country with several ethnic and racial groups living peacefully together. The Baganda people, the most populous ethnic group, make up about 16.5% of the total population followed by the Banyankole with about 9.6% of the population, the Basoga with about 8.8%, the Bakiga with about 7.1%, the Iteso with 7%, the Langi with about 6.3%, the Bagisu with 4.9%, Acholi with 4.4% and Lugbara with about 3.3% of the total population. Other minor groups together form the remaining fraction of the population.
English and Swahili are the two official languages spoken in Uganda today. Apart from these two, the Republic of Uganda has about forty-three other living languages. For example, Ganda or Luganda (the most widely used of the Niger-Congo languages, is also the language used most often in Kampala the capital), other Niger-Congo languages, Nilo-Saharan languages, Arabic, etc. are written and spoken in Uganda today.
The Republic of Uganda is a Christian-dominant country with over 80% of the population identifying as Christians. About 45.1% of Uganda's population is Protestant (including Anglican 32.0%, Pentecostal 11.1%, Seventh Day Adventist 1.7%, Baptist .3%). Roman Catholics make up about 39.3% of the total population. Muslims together form just about 13.7% of the total population. Other minor denominational groups make up the remaining fraction of the population.
The Republic of Uganda, just like its neighboring countries, is blessed with abundance of natural resources such as arable land, gold, copper, cobalt, hydropower, limestone and salt. However, despite the abundance of natural and human resources, the Republic of Uganda is crippled by so many political, socio-economic and developmental challenges.
The Republic of Uganda has a literacy rate of 76.5% for the total population with female literacy rate hovering around 70.8%. In other words, just about 70.8% of Uganda's female population above the age 15 can read and write. Although this doesn't sound too bad, the literacy rate falls sharply in some rural and sub-urban communities.
Overpopulation is gradually becoming a major challenge in Uganda today not just because of Uganda's comparatively smaller total land area, but also because of the Uganda's population distribution. The central and southern parts of Uganda (especially along the shores of Lake Victoria and Lake Albert) are highly concentrated while the northern parts of the country remains sparsely populated.
Because of overpopulation, Uganda has started draining some wetlands for agricultural and infrastructural uses. The reality however is that, every time a wetland is lost, or allowed to degrade, the entire watershed loses value to humans, animals and plants.
According to UNAIDS, more than 1.5 million people were living with HIV/AIDS in Uganda with about 21,000 officially recorded HIV/AIDS-related deaths in 2019. The Republic of Uganda currently has HIV/AIDS adult prevalence rate of 6.1% and several children have been orphaned due to HIV/AIDS. Unfortunately, most people living with the virus in Uganda today don't even have access to antiretroviral treatment.
Apart from the deadly HIV/AIDS, diseases such as Malaria, hepatitis A and E, typhoid fever, dengue fever, trypanosomiasis-gambiense (African sleeping sickness), schistosomiasis and rabies continue to destroy several lives in Uganda today.
Water pollution (mostly from agricultural and industrial runoffs), deforestation (the rampant cutting down of trees mostly for timber), overgrazing of farm animals (which leads to soil erosion and land degradation), widespread poaching (which is severely affecting wildlife population in Uganda today. NB. Mountain gorillas are critically endangered), etc. are some of the major environmental issues facing Uganda today.
The fraction of people living in absolute poverty has declined in Uganda. In fact, according to Uganda's government figures, the percentage of people living below the national poverty line declined from 31.1% in 2006 to 19.7% in 2013. This sounds great. However, the major issue here is that, Uganda's poverty estimate data is based on $0.88–$1.04 per person per day as the national poverty line. Meanwhile, the World Bank's international poverty line is $1.90 per day. In other words, a person living on $0.89 a day may be classified "OK" by Uganda's estimate. However, any person living on less than $1.90 a day is considered "absolutely poor" by the international poverty line.
Just about 29% of Uganda's total population has access to electricity (or covered by the national grid). Although Kampala and other major cities and towns are somehow covered, just about 17% of rural and sub-urban communities are covered by the national power grid (Uganda Electricity Transmission which is operated and managed by the Uganda Electricity Transmission Company Ltd or UETCL).
Although the Republic of Uganda can boast of "political stability", the system of government in Uganda can also be classified as a dictatorial rule. Uganda's current leader, Yoweri Museveni, has been in power since 1986. The dictatorial regime of one of Africa's craziest leaders, Idi Amin, from 1971 to 1979, was responsible for the deaths of more than 300,000 people. The guerrilla war and human rights abuses under another crazy leader, Milton Obote from 1980 to 1985, claimed at least another 100,000 human lives. Comparatively, the rule of the current leader, Yoweri Museveni since 1986, has brought relative stability and some economic growth to Uganda. However, the basic fact remains. Uganda has become the Museveni family property. Museveni has been ruling Uganda for decades with iron hands and his son is set to take over after his death.
Just like in most other African countries, rampant corruption and poor governance continues to tear Uganda apart.