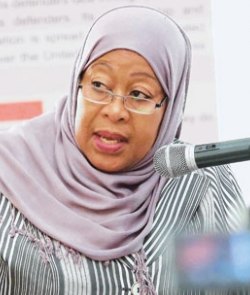 The United Republic of Tanzania or "Tanzania" for short, is the largest and most populous East African country with a total land area of about 947,300 squared kilometers (about 61,500 sq km covered by water) and about 1,424 kilometers of coastline.
The United Republic of Tanzania borders the Republic of Kenya to the northeast, the Republics of Mozambique and Malawi to the south, the Republic of Zambia to the southwest, Comoro Islands and the Indian Ocean to the east, the Republics of Rwanda, Burundi and the Democratic Republic of the Congo to the west.
Geographically, Tanzania is located at the "Great lakes region" of the African continent bordered by three of the largest lakes in Africa. Tanzania is bordered in the north by Lake Victoria which is the second largest fresh water lake in the world. In the west, Tanzania is bordered by Lake Tanganyika which is the second deepest lake in the world. Also, Lake Nyasa (or "Lake Malawi") borders Tanzania in the southwest.
Mountain Kilimanjaro, the tallest mountain in Africa and the highest free-standing mountain in the world, is found in Tanzania.
The United Republic of Tanzania has an estimated population of 63 million people with the population growth rate hovering around 3.0%. About 36% of Tanzania's population lives in urban areas in major cities and towns such as Dar es Salaam (the administrative capital) and Dodoma (the legislative capital).
Dar es Salaam the administrative capital of Tanzania contains about 7.1 million people. Dodoma contains about 270,000 people. Tanzania's Island, Zanzibar, is also home to about 1.6 million people. Mwanza, another major city, contains about 1.2 million people. Others such as Mbeya (about 600,000 people), Arusha (about 550,000 people), Morogoro (about 450,000 people), Songea (about 390,000),etc. are also home to significant portions of the population.
Tanzania's is about 99% African (of which 95% are Bantu consisting of more than 130 tribes) with Asians, Europeans, and Arabs forming the remaining 1% . The mainland Tanzania is about 62% Christian while Zanzibar Island is almost entirely Muslim (about 98%).
Swahili or "Kiswahili" (a Bantu language and lingua franca of the African Great Lakes region) and English are the two official languages spoken in Tanzania today.
Just like it's neighboring countries, the United Republic of Tanzania is blessed with abundance of natural resources including gold, diamonds, nickel, natural gas, gemstones, coal, hydropower, tin, phosphates and iron ore.
Tanzania has a literacy rate of 77.9% for the total population with the female literacy rate hovering around 73.1%. In other words, about 77.9% of Tanzania's population above the age 15, can at least read and write.
The United Republic of Tanzania, just like in most other African countries today, faces so many developmental, social, and political challenges despite the abundance of human and natural resources.
According to the World Health Organization, Tanzania has HIV adult prevalence rate of 5.1%. About 1.7 million Tanzanians were living with HIV/AIDS in 2019 with about 27,000 HIV/AIDS-recorded deaths in the same year. Besides HIV/AIDs, bacterial diarrhea, hepatitis A, typhoid fever, malaria, dengue fever, Rift Valley fever, schistosomiasis, rabies, etc. continue to destroy several lives in Tanzania today.
Also, about 8.4% of Tanzania's population was classified obese in 2018 by the World Health Organization. Meanwhile, 14.6% of children under the age of five are underweight.
According to World Bank statistics, about 24.9 million Tanzanians were in the labor force in 2017. Meanwhile, about 26.5% of the total population of Tanzania was living below the international poverty line in 2017.
About 67% of Tanzania's labor force is into agriculture mostly as poor subsistence farmers who grow crops such as cassava, maize, sweet potatoes, sugar cane, rice, bananas, vegetables, beans, sunflower seeds, etc. and rear animals (like goats, sheep, cattle, poultry) just to feed themselves and their families. However, issues like illiteracy, lack of information, poor climatic conditions, soil erosion, desertification, poor farming practices and land degration, etc. do not favor food production and put several families below the poverty line.
Just about 40% of Tanzania's population has access to electricity (grid) and it is worse in the rural and sub-urban communities where less than 23% have access.
Deforestation or the rampant cutting down of tress (mostly for timber, firewood, and charcoal), destruction of coral reefs (which threatens marine habitats), illegal hunting and trade (poaching of wild animals like lions for sport, elephants and rhinos for ivories. This issue greatly affects Africa's wildlife), improper waste disposals and pollution, etc. remain some of the major environmental problems facing Tanzania today.