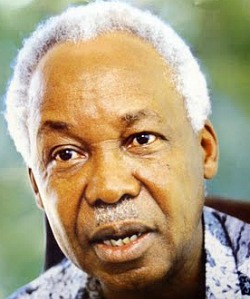 Tanzania, a country in East Africa, is known for; Mount Kilimanjaro, wildebeests crossing the Serengeti into Kenya and back, the Maasai community (also in Kenya), nice cuisine with traditional spices, white sand beaches and the Zanzibar island.
Recently it has been making news but not what the nation is known for. This time it's a vice, one that seems to be an impediment in the development of many African states, corruption. Past and current heads of state have made efforts and strong commitments in fighting the vice. In 1996 the country formed a body of regulations, laws and oversight institutions aimed at; investigating, preventing and sanctioning corrupt individuals and practices leading to the publication of the Warioba report, assessing the state of corruption in the state.
It also led to the establishment of the Prevention of Corruption Bureau and the Ethics Inspectorate Departments.
Although it's perceived that corruption has declined in the recent years, the Prime Minister and two other ministers were forced to resign and the entire cabinet dissolved early 2008 due to corruption scandals in political and administrative systems. This followed an audit of the Tanzanian Central Bank exposing ministers and political leaders from the ruling Chama Cha Mapinduzi (CCM). It revealed that an estimated US$ 120 million had been lost in a scandal where local companies were paid with most of them being fictious. They also granted an American-based company a large contract in which they had vested interests.
There are various forms of corruption in Tanzania today. In Bureaucratic corruption, companies operating in the state claim that one major business constraint is inefficient government bureaucracy. It's a common practice for companies to make payments to speed up bureaucratic processes. Bribes have to be paid to get things done, making it time intensive and cumbersome dealing with permits and licenses. These kind of environment scares away investors hence reducing industrialization and development.
Political corruption has shaken the ruling party (CCM) especially in the Richmond affair. Prime Minister Edward Lowassa, was identified as one of the major architects of the 2006 contract between the Tanzanian government and the Texas-based Richmond Development company. It was to provide 10MW to the national grid for $179 million. The generators never appeared and "Richmond" never explained. He resigned and Jakaya Kikwete the President, fired the entire cabinet.
Takrima clause is a traditional hospitality clause defined in the election act as a gift given in good faith. It has been misused for corruption purposes and politicians invoke it by offering; clothes, food, cash and construction materials during campaigns in exchange for votes. There are also widespread relations between businesses and political interests. Illicit payments are made to government officials in order to influence policy making. They are made either to affect the content of the government decrees or the votes of parliament members.
Various sectors have been affected by corruption. Companies give gifts in order to secure contracts and accountability of donor funded projects appear to be very weak. Companies involved in corrupt practices aren't blacklisted by the tender board.
Several reports have been made by both public and private sources claiming that, there's a lot of corruption and embezzlement of public funds in the tax administration. In the 1990's, the tax department in the Ministry of Finance was nicknamed the 'Tax Exemption Department' due to widespread granting of discretionary tax exemptions to business people willing to pay for them. Official statistics on reported revenue from customs duties also indicate large leakages. Lack of administrative capacity create a conducive environment for corrupt practices. For instance, Tanzanian Revenue Authority (TRA) staffs solicit bribes during tax assessments. Former permanent secretary to the treasury was taken to court because of granting tax exemptions to M/S Allen Stewart Government Business Corporation Company in 2003.
The police, in particular traffic police, are considered vulnerable to corruption. Junior staff members with low salaries are engaged in petty forms of corruption while senior officers benefit from a percentage of overall bribes collected. Commonwealth Human Rights released a report in 2006 claiming that the police department was the most corrupt in Tanzania.
The judiciary faces major resources and capacity challenges; poor regulatory framework, weak management and coordination of judicial institutions and ineffective human and administrative resources. Although the constitution provides for judicial independence, it rarely restrains the government in political cases. High level government officials are rarely prosecuted for corrupt cases. In lower courts, bribery is commonly used to speed up judicial processes.
Natural resources are also mismanaged. For example, of the total revenues collected from timber, just a very small percentage (almost nothing at all) reaches the poor villages (who are lossing all their farmlands and forestry) and local authorities. Most of it is pocketed by those greedy and corrupt politicians. It has been revealed that most of the companies involved in timber importing and exporting have close ties with high level politicians.
Although there are a lot of anti-corruption efforts in Tanzania today, it seems that the government is fighting a losing battle since the people expected to fight the vice are the same ones engaged in corrupt practices.
By Oscar Otindo
The writer is an AfricaW Group member and activist based in Nairobi, Kenya.