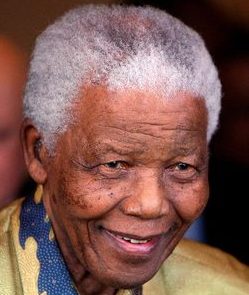 The wandering eyes of the great owl have ceased to wander and the croaking voices of the croaker frogs have refused to croak. The mighty wings of the great vulture continue to swing to and fro across the skies while the tiny little springbok continues to run for cover. Nelson Mandela the father of the fatherless is gone. Madiba the friend of the poor and the needy has crossed the river.
The great Iroko tree has fallen and the sunbird is quiet. The trees are silent and silent are the birds who nest on the branches of trees. The sun has refused to shine while the faceless moon continues to shed tears upon tears. Yes a great Iroko tree has fallen and mother earth is not happy. The great Madiba has gone to sleep. The great Madiba has joined his ancestors.
Who will fight for Africa? Who will fight for the poor and the needy? Who will fight for the voiceless? Who will carry our tiny voices across the deep waters? And who shall be our friend in this unfriendly world? That is why I cry and that is why millions are crying today. Nelson Mandela our father, grandfather, and friend in need has joined his ancestors in the land beyond. The great Madiba has gone to the land beyond to bury the chains of life. He has gone to bury all the pains and sorrows this life brings. He has gone to dine with the giver of life. May he find favors in the eyes of the Almighty and may his soul rest in the bosom of life.
Nelson Mandela was sentenced to life in prison for fighting against apartheid (the worst form of racial discrimination) and spent 27 years of his life in jail. He contracted tuberculosis and other lung diseases during those long years in jail. Mandela battled those lung infections every single day till he passed away in the morning hours of Thursday December 5, 2013 at the age of 95.
April 20, 1964: Charged with sabotage, Nelson Mandela delivered a statement during his trial in Pretoria that revealed the depth of his resolve in the fight against apartheid and his willingness to lay down his life in an effort to end white racist rule.
"During my lifetime I have dedicated myself to this struggle of the African people," Mandela said. "I have fought against white domination, and I have fought against black domination. I have cherished the ideal of a democratic and free society in which all persons live together in harmony and with equal opportunities. It is an ideal which I hope to live for and to achieve. But if needs be, it is an ideal for which I am prepared to die."
Two months later, he and seven other defendants were sentenced to life in prison.
Nelson Mandela was a man of many voices. He stood for what is right and never departed from the truth. He was more than ready to die for the truth. He stood for the poor and the needy and dedicated his entire life helping others. He brought hope to millions upon millions of people around the world. His story is a story of many stories. There is almost everybody's story in Mandela's story and that is what makes him such a unique being. Nelson Mandela suffered throughout his life but never gave up hope. Mandela was never bought by money and he was never bought by fame. He started as Nelson Mandela and ended as Nelson Mandela. We Africans know what he has done for us. When nobody could hear our tiny voices, Mandela took it upon himself and sacrificed his life just so our tiny voices could be heard. Mandela never disappointed Africa and that is why he remains our best friend even in death. We pray the Almighty washes away all his pains and sorrows and give him a very peaceful rest.
REST IN PEACE MADIBA!