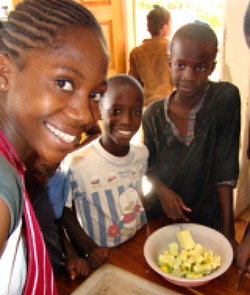 Ebenezer homes for the destitute is situated in our country Kenya, Rift Valley Province, Eldoret town. It is about four hundred kilometers (400km) south west of Nairobi. For the last five (5) years we have been involved in this home.
Ever since the introduction of the mufti-party in the government, Kenya as a country has been experiencing a large scale of ethnic clashes leading to the displacement of people internally. This results to internally Displaced people thus marginalized to access to economic resources.
Since the last Presidential election in 2007/2008 many Kenyans have not been able to resettle again most of their properties have been burned and Dis-placed. This resulting to a very high number of needy and vulnerable children in the community.
A lot need to be done in order to maintain and sustain these young people. We the Ebenezer Homes for the Destitute Aims at fulfilling the following Objectives as our basic needs.
1. To provide three meals per day per child
2. To provide the basic education
3. To provide shelter with enough space to the street children.
4. To give love and spiritual nourishment
5. Maintain children's health and clean water.
6. Provide clothing
7. Training after basic education to be self reliant and long term solution.
8. To assist the people with H.I.V. and A.I.DS together with there Families,and
the Community.
9. Youth and Children,grand Mothers and the Elderly people.
10. We also offer Scientific development Disabilities, and Climate Clean Energy,
Environmental Health, E.T.C We Value the our Communities Developments in TOTAL.
It is in this aspect that we are making a passionate appeal to your esteemed organization to work in partnership with you. We hope and pray that if we work together we will help the needy to face their future with courage and hope at the moment we are Catering More than 250 orphans and vulnerable Children.
For more information that you may require concerning our ministry please do not hesitate to write to us using the following address.
ANREW K.KURIA AND RUTH,
EBENEZER HOMES FOR THE DESTITUTE
PO.BOX 5460
ELDORET CODE 30100.
KENYA
CELL,254-720-546-132.
We Would like to partner with your Ministry.