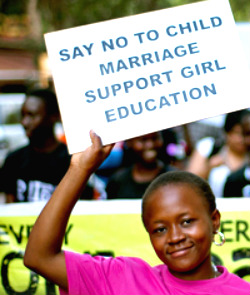 Whenever extreme religious beliefs and common sense crash, the weak and the innocent often suffer for no good reasons at all. Whenever Religion and the State crash, the innocent citizens including tiny little babies suffer the most. In a land where the stupid reigns supreme, there can never be peace and in a land where the pedophile makes the laws, no child can be guaranteed safety. No girl child is safe in Nigeria today and that is simply because the Nigerian Senate is full of pedophiles and perverts.
Nigeria is the most populous country in Africa today with a population of about 170 million people. About 50% of Nigerians are Muslims. Christians make up about 40% of the total population with the remaining 10% being Traditional worshippers.
Because of the huge presence of Muslims in Nigeria today, Islam influences most of the countries laws and regulations. In other words, Islam influences Nigeria's constitution to a far greater extent than expected.One such influence is the issue of child marriage. Islam sees nothing wrong with child marriage while the rest of the world frowns at it. It may surprise you to know that, even the holy prophet of Islam Prophet Mohammed, married a 6yr old girl by name Aisha and slept with the kid at age 9. The holy prophet was about 56 years old when he first slept with Aisha.
The holy prophet Mohammed was a very good and virtuous man according to the holy Quran and I don't think he would not commit such a great crime. In other words, child marriage was legal in those days and people saw nothing wrong with that. In fact, the 6yr old Aisha was deemed an adult in those days. However, if the holy prophet were to be alive today, he would be in jail for defilement why because Aisha was underage. In the Islamic world however, there seems to be nothing wrong with what the holy man of Allah did and in fact, most leaders of Islam continue to preach about following the footsteps of the holy prophet on this particular issue. Such is the case in Nigeria today. Most of the Nigerian Senators are Muslims and they see nothing wrong with child marriage.
In Nigeria today, massive protests have continued to trail the Senate's passage of a resolution to retain the provision of Section 29 (4) (b) of the 1999 Constitution. Under the section, a married underage girl is deemed to be an adult. Prominent Nigerians and human right organizations took to the social media to protest what they described as legalization of sexual abuse of underage girls. Some of the protesters in Abuja, Lagos and other parts of the country, queried why underage Nigerians could not exercise their franchise at the polls yet are being subjected to marriage at such tender age.
Here are the names of the 35 Nigerian Senators who voted for the legalization of child marriage on the recent senate resolution:
Sen. Abdulmumin M. Hassan (Jigawa South West, PDP), 2. Sen. Abdullahi Danladi (Jigawa North West, PDP), 3. Sen. Adamu Abdullahi (Nasarawa West, PDP), 4. Sen. Ahmed Barata (Adamawa South, PDP), 5. Sen. Akinyelure Ayo (Ondo Central, Labour Party), 6. Sen. Alkali Saidu A. (Gombe North, PDP), 7. Sen. Bagudu Abubakar A. (Kebbi Central, PDP), 8. Sen. Dahiru Umaru (Sokoto South, PDP), 9. Sen. Galaudu Isa (Kebbi North, PDP), 10. Sen. Garba Gamawa (Bauchi North, PDP), 11. Unconfirmed, 12. Sen. Gobir Ibrahim (Sokoto East, PDP), 13. Sen. Gumba Adamu Ibrahim (Bauchi South, PDP), 14. Sen. Hadi Sirika (Katsina North, CPC), 15. Sen. Ibrahim Bukar Abba (Yobe East, ANPP), 16. Sen. Jajere Alkali (Yobe South, ANPP), 17. Sen. Jibrilla Mohammed (Adamawa North, PDP), 18. Sen. Kabiru Gaya (Kano South, ANPP), 19. Sen. Lafiagi Mohammed (Kwara North, PDP), 20. Sen. Lawan Ahmad (Yobe North, ANPP), 21. Sen. Maccido Mohammed (Sokoto North, PDP), 22. Sen. Musa Ibrahim (Niger North, CPC), 23. Sen. Ndume Mohammed Ali (Borno South, PDP), 24. Sen. Sadiq A. Yaradua (Katsina Central, CPC), 25. Sen. Saleh Mohammed (Kaduna Central, CPC), 26. Sen. Tukur Bello (Adamawa Central, PDP), 27. Sen. Ugbesia Odion (Edo Central, PDP), 28. Sen. Umar Abubakar (Taraba Central, PDP), 29. Sen. Usman Abdulaziz (Jigawa North East, PDP), 30. Sen. Ya'au Sahabi (Zamfara North, PDP), 31. Sen. Zannah Ahmed (Borno Central, PDP), 32. Sen. Ahmad Rufai Sani (Zamfara West, ANPP), 33. Sen. Ahmad Abdul Ningi (Bauchi Central, PDP), 34. Sen. Bello Hayatu Gwano (Kano North, PDP), 35. Sen. Ibrahim Abu (Katsina South, CPC).
As you can see from the names above, almost all these Senators who voted for the legalization of child Marriage in Nigeria today are Muslims which also implies these Senators voted based on their religious beliefs. This once again goes to show how religion continues to destroy our beloved continent Africa. The Islamic Extremist group Boko Haram continues to kill and destroy several innocent people especially in the northern parts of Nigeria. They continue to bomb schools and hospitals and kill tiny little babies and they believe they are committing all these atrocities for a peace-loving God called Allah and His holy prophet. Meanwhile, their counterparts in the Senate continue to write and modify laws and regulation just to punish innocent kids for Allah and His holy prophet. This is how the religion of peace Islam, continues to destroy Nigeria and the whole of Africa all in the name of a peace-loving God called Allah and the holy prophet Mohammed.